When you think of Tennessee's food culture, you might think of typical southern staples like hush-puppies, country ham, cornbread and, of course, Memphis-style barbecue. What may not come to mind, however, is the state's high participation rates in the federal Supplemental Nutrition Assistance Program. According to Tennessee's Department of Human Services, over one million individuals and half a million households participated in the program as of December 2016.
In order to avoid poor health and malnutrition, registered dietitians are greatly needed in Tennessee. If you are interested in becoming a certified dietitian in the state, your work will help families and children who are most affected by poverty and its associated health risks. The American Dietetic Association (ADA) has several requirements you must first fulfill, as outlined below.
Requirements to Become a Dietitian in Tennessee?
Basic Requirements
Education: Successful completion of a bachelor's degree from an institution approved by the Commission on Accreditation/Approval for Dietetics Education (CADE).
Age: You must be of legal age to become a registered dietitian, 18 years or older.
Licensure: Tennessee does not require state-specific registration. You must meet the requirements of the ADA in order to become a qualified dietitian in the state.
Degree: Individuals must complete the Didactic Program in Dietetics (DPD) at an accredited college or university.
Experience: Completion of a supervised pre-professional program or internship is required. The program must be approved by the CADE and the Tennessee Dietetic Association (TDA).
Examination: Students must receive a passing score on an exam administered by the Commission on Dietetic Registration (CDR).
Citizenship: Eligible applicants must be a legal immigrant or U.S. citizen.
Find schools and get information on the program that's
right for you.
(It's fast and free!)
Featured Schools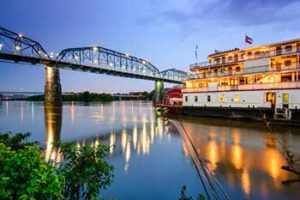 Additional Requirements
Background Screening: Professional and criminal background screenings are also part of the process to become a registered dietitian in Tennessee.
Continuing Education: The ADA also has continuing education requirements that applicants must fulfill in order to continue working as a dietitian in the state.
Application Process in Tennessee
Licensure: Applications are submitted to Tennessee's Board of Dietitians/Nutritionist Examiners. The application should include proof of citizenship, education and a passing exam score. Additionally, an licensure fee of $140 must accompany the application forms. After approval is granted, you may work as a registered dietitian in Tennessee.
Degrees Related to Dietitians
You have the option to pursue several different degrees in order to work as a certified dietitian. This list may include food science, dietetics, nutrition science or food management.
Discover health and nutritionist programs in Tennessee that are a match for you!
Major Cities in Tennessee
Nashville is the most populous city in the state of Tennessee, reaching about 678,889 people.
At a close second is the city of Memphis with 653,450 residents.
The third largest city in the state is Knoxville, which is home to 183,270 people according to a 2013 census.
What Does a Nutritionist Do in Tennessee?
Nutritionists in Tennessee will often work for corporate food service providers, developing and coordinating researched dietary plans for the public sector.
Education is another major aspect of working as a nutritionist. Consultations and educational programs happen in both public and private settings and will include information on how healthy eating habits and nutrition can help prevent certain diseases.
Finally, continued education and research is vital for a successful nutritionist. Keeping up with the latest developments and discoveries in nutritional research is standard for nutritionists in Tennessee.
Related Careers
Dietetic technicians and nutritionists share many similarities with registered dietitians. Technicians often work directly with registered dietitians during the implementation of nutritional programs. Nutritionists have similar job duties, like educating and developing care plans for the public.
Employment Numbers in Tennessee
As of 2015, the Bureau of Labor Statistics reports that 950 registered dietitians are working in Tennessee.
Salary Ranges in Tennessee
$53,950 is the yearly average wage for dietitians in the state.
Tennessee Dietitian Links
Tennessee Board of Dietitians/Nutritionist Examiners
State Information from the Bureau of Labor Statistics
Commission on Dietetic Registration
Nutritionist and Dietitian Programs in Tennessee
Get Your Degree!
Find schools and get information on the program that's right for you.
(It's fast and free!)
Choose your area of study and receive free information about programs you are interested in. Qualified nutritionists and dietitians often pursue a bachelor's degree before attempting certification. Though both deal exclusively with nutrition, food, and dietary choices, nutrionists and dietitians do have different roles. Request information from multiple schools to find the best program and educational opportunity for you!