Registered dietitians are considered nutrition experts that understand how good eating habits can lead to better overall health. These professionals are essential to helping the public learn more about the complexities surrounding nutrition. As issues with obesity, high blood pressure, diabetes and other diet-related health problems continue to affect high numbers of our population, demand for professionals in this field will steadily grow.
In fact, the Bureau of Labor Statistics has projected up to 16 percent growth for the employment of nutritionists and dietitians. The Academy of Nutrition and Dietetics has also reported that registered dietitians make an average yearly salary between $42,000 and $92,000, depending on the state.
Ultimately, a career in this profession is as rewarding and necessary as ever before. If you're interested in becoming a registered dietitian, there are certain educational requirements that you must first complete. Continue reading for an overview of the registered dietitian education requirements.
Where to Start
The first step to becoming a registered dietitian is to earn a bachelor's degree. Individuals cannot become registered or certified without it. You may pursue a bachelor's degree in nutrition or another related field such as dietetics, microbiology, food service management, human anatomy or chemistry.
Find schools and get information on the program that's
right for you.
(It's fast and free!)
Featured Schools
Your college or university should offer a Didactic Program in Dietetics (DPD), which offers the coursework necessary to become a registered dietitian. Completion of a DPD or any other program accredited by the Accreditation Council for Education in Nutrition and Dietetics (ACEND) generally fulfills the prerequisite requirements for admission to a Didactic Internship (DI).
You can talk to your advisor about your school's programs and what you can do to reach eligibility for the registered dietitian examination. Some universities offer Coordinated Programs which combine the DPD and the DI so both are complete upon graduation.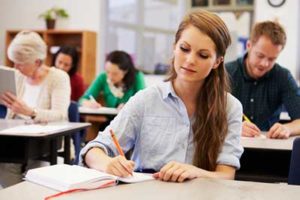 Didactic Internship
During or after your undergraduate education, you will need to complete at least 1,200 hours of supervised practice in a Didactic Internship. DIs are typically completed in 8 to 24 months, depending on whether you have part-time or full-time availability.
Appointment to a DI is competitive, and many programs use national computer matching software. Other programs will only accept applicants who are already employed by the sponsoring organization. You can contact the program's director to learn more about the application process and deadlines.
Discover health and nutritionist programs that are a match for you!
Commission on Dietetic Registration Exam
The final educational step to become a registered dietitian can be completed after you've met the required DI hours. Next, you must pass the exam administered by the Commission on Dietetic Registration. Once this objective is fulfilled, you can finally earn the credentials to be a registered dietitian.
The exam is computer-based and is designed to determine whether a dietitian can perform at the entry-level. The exam covers topics in the following:
Food and nutrition
Nutrition care processes
Research, education and counseling
Food service systems
Management
If a passing score is earned, then you have completed your initial registered dietitian education. To maintain your status as a registered dietitian, continuing education coursework will need to be completed periodically.