Many people don't know that Oregon is famous for many different foods. However, this state in the Pacific northwest is the home of several foods that its residents love. For example, filberts, a type of hazelnut, grows in Oregon, as does Chanterelle mushrooms. The state fruit is a pear and the state drink is milk. As with any state, proper nutrition is important to Oregonians, and many residents in this state turn to dietitians for help with healthy eating habits.
The Oregon Board of Licensed Dietitians has standards that you must meet before being licensed as a dietitian in this state.
Requirements to Become a Dietitian in Oregon
Basic Requirements
Age: An Oregon dietitian must be over the age of 18.
Education: At least a Bachelor's degree from an accredited university or institution.
Licensure: You must be granted a license by Oregon Board of Licensed Dietitians to use the title 'licensed dietitian'.
Degree: Your Bachelor's or post-Bachelor's degree should have a major course of study in dietetics, food systems management, food and nutrition or human nutrition.
Experience: 900 hours of supervised practical work experience in dietetics or nutrition.
Exam: Candidates for licensure must have passed the certification exam given by the Commission on Dietetic Registration (CDR).
Citizenship: To be a licensed dietitian in Oregon, you must be a US citizen or a legal alien.
Find schools and get information on the program that's
right for you.
(It's fast and free!)
Featured Schools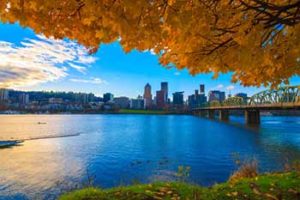 Additional Requirements
Background Check: Applicants will be required to undergo a background check before being given a dietitian license in Oregon.
Application Process
Licensure: After completing the educational, experience and exam requirements, you will submit an application to the Board with proof of these credentials. In addition, you must pay a $50 application fee and $60 license fee. Licenses must be renewed every year for an additional $60.
Reciprocity: The examination requirement will be waived and your license will be granted if you are already licensed in another state or a national registration board like the CDR.
Degrees Related to Dietitians
Dietitians can choose several different educational programs that are useful to this profession. A few of the most common degrees include human nutrition, dietetics, human nutrition, food management and food and nutrition.
Discover health and nutritionist programs in Oregon that are a match for you!
Major Cities in Oregon
The most populous city in Oregon is Portland, which is home to 583,776 people.
156,185 people live in Eugene, the state's second largest city.
Salem is Oregon's third largest city, and has 154,637 residents.
What Does a Nutritionist Do?
A nutritionist is responsible for several tasks related to proper human nutrition. For example, a nutritionist will gauge their client's nutritional needs and will develop a plan to meet those needs. Nutritionists also monitor a client's progress and help them adjust their meal plan if it is deemed necessary.
Many larger institutions employ nutritionists to help them develop meal plans. This can include such institutions as schools, prisons and hospitals.
Nutritionists will routinely engage in continuing nutritional education and then disseminate this information to their clients and communities.
Related Careers
A few careers are very similar to that of a dietitian. One such career is a dietetic technician. Dietetic technicians work to help dietitians and are responsible for many of the same job tasks. Being employed as a nutritionist is also very similar to working as a dietitian.
Employment Numbers in Oregon
660 dietitians were working in Oregon in 2015 as estimated by the Bureau of Labor Statistics.
Salary Ranges in Oregon
For dietitians working in Oregon, the average annual salary is $65,090.
Oregon Dietitian Links
Nutritionist and Dietitian Programs in Oregon
Get Your Degree!
Find schools and get information on the program that's right for you.
(It's fast and free!)
Choose your area of study and receive free information about programs you are interested in. Qualified nutritionists and dietitians often pursue a bachelor's degree before attempting certification. Though both deal exclusively with nutrition, food, and dietary choices, nutrionists and dietitians do have different roles. Request information from multiple schools to find the best program and educational opportunity for you!