North Carolina is a state unlike any other, featuring some unique food that its residents love. For example, North Carolina has its own signature style of barbecue pork. This state is also home to the oldest vine of cultivated grapes, which are scuppernongs. North Carolina residents care about proper nutrition and improving their health, providing the perfect opportunity for registered dietitians to practice in this state.
The North Carolina Board of Dietetics/Nutrition maintains several different license types, and holds specific requirements for each license.
Requirements to Become a Dietitian in North Carolina
Basic Requirements
Age: A dietitian in North Carolina must be a legal adult.
Education: Completion of a bachelor's degree from a regionally accredited university.
Licensure: North Carolina dietitians must be licensed by the state before using the title of a licensed dietitian.
Degree: Qualifying degrees will have a major course of study in public health nutrition, community nutrition, human nutrition, foods and nutrition or dietetics.
Experience: 1200 hours of work experience supervised by a registered dietitian as outlined by the Accreditation Council for Education in Nutrition and Dietetics (ACEND).
Examination: Applicants must have earned a passing score in the Commission on Dietetic Registration (CDR) exam.
Citizenship: To become a North Carolina dietitian, you need to be a legal alien or a US citizen.
Find schools and get information on the program that's
right for you.
(It's fast and free!)
Featured Schools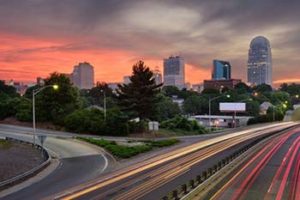 Additional Requirements
Background Check: Applicants must undergo a background check before being given a North Carolina dietitian license.
Application Process
Licensure: Once you have become a registered dietitian with the CDR, you will file an application a Category A type a license with the North Carolina Board of Dietetics/Nutrition. This application will include your CDR verification and a $175 fee.
Provisional Licenses: For a Category B license, you must have completed your education and experience requirements and be eligible to take the CDR exam. For Category C licenses, you must complete your education and work experience, and plan to take an exam that will only license you in North Carolina.
Other Licenses: Category D licences are given to those who are licensed in another state and are seeking licensure in North Carolina through reciprocity. Category E licenses are reserved for doctorate applicants.
Degrees Related to Dietitians
The first and most important step in becoming a registered dietitian is receiving the right education. Degrees that are useful for a dietitian include dietetics, human nutrition, nutritional science, nutritional education and food management.
Discover health and nutritionist programs in North Carolina that are a match for you!
Major Cities in North Carolina
Charlotte is North Carolina's largest city. It has a population of 792,862.
Raleigh is the state capitol and the second largest city. 431,746 people live in Raleigh.
Greensboro is third in population with 279,639 residents.
What Does a Nutritionist Do?
A nutritionist will examine their client's nutritional needs. They will then develop an initial meal plan to assist their client in meeting those needs. If their client is not making adequate progress, a nutritionist will adjust the plan accordingly.
Nutrition education is another common task of nutritionists and dietitians.
Nutritionists can develop comprehensive meal plans for large groups of people in schools, hospitals, prisons and other institutions.
Related Careers
Certified nutritionists and dietetic technicians are the two careers that are most similar to a dietitian. Certain food management tasks are also similar to dietetic work.
Employment Numbers in North Carolina
The Bureau of Labor Statistics states that there were 1,810 registered dietitians working in North Carolina in 2015.
Salary Ranges in North Carolina
In the Charlotte-Concord area of North Carolina, dietitians can make $48,300 annually. Durham and Chapel Hill dietitians may make $58,360. In Raleigh, the average pay is $55,660.
North Carolina Dietitian Links
Nutritionist and Dietitian Programs in North Carolina
Get Your Degree!
Find schools and get information on the program that's right for you.
(It's fast and free!)
Choose your area of study and receive free information about programs you are interested in. Qualified nutritionists and dietitians often pursue a bachelor's degree before attempting certification. Though both deal exclusively with nutrition, food, and dietary choices, nutrionists and dietitians do have different roles. Request information from multiple schools to find the best program and educational opportunity for you!