Although many outsiders may not know it, residents of New Jersey are very familiar with the state's delicious, fresh crops. A few of the most important crops grown in the Garden State include corn, tomatoes and blueberries. However, New Jersey is more well-known for its unhealthy food like pork rolls and Italian cuisine. To help make sure citizens in New Jersey make healthy food choices, many people choose to start a career as a registered dietitian.
Unlike most states, New Jersey does not mandate licensure for its dietitians. Before beginning your career as a dietitian, however, you will need to meet the requirements to register with the Commission on Dietetic Registration (CDR).
Requirements to Become a Dietitian in New Jersey
Basic Requirements
Age: Legal adults can become registered dietitians in New Jersey.
Education: Earning a baccalaureate degree from an accredited institution is the minimum for becoming a dietitian.
Licensure: New Jersey does not require dietitians to become licensed with the state.
Degree: A Didactic Program in Dietetics that has been accredited by the Academy of Nutrition and Dietetics.
Experience: 1200 hours minimum experience during an accredited dietetic internship program or a similar accredited coordinated program. Dietetic work experience must be supervised by a registered dietitian.
Exam: Achieve a passing score in the Commission on Dietetic Registration exam.
Citizenship: CDR registered dietitians must be US citizens or legal aliens.
Find schools and get information on the program that's
right for you.
(It's fast and free!)
Featured Schools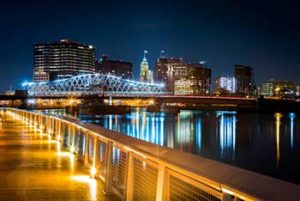 Application Process
Licensure: New Jersey is one of the few states that does not require its dietitians to become licensed with the state. Following registration with the Commission on Dietetic Registration, you can work as a dietitian in New Jersey.
Degrees Related to Dietitians
Those seeking a career as a registered dietitian have many educational paths to choose from. Most dietitians will register in a dietetics program. However, food management, food and nutrition, nutritional science and clinical nutrition are all related degrees.
Discover health and nutritionist programs in New Jersey that are a match for you!
Major Cities in New Jersey
277,000 people live in Newark, making it the largest city in New Jersey
Jersey City is the second most populous city in the Garden State with 248,000 residents
Paterson is home to 147,000 people, which makes it the third largest New Jersey city
What Does a Nutritionist Do?
Nutritionists develop meal plans intended to promote a healthier lifestyle for their clients. A nutritionist will closely examine their client's nutritional needs and then will tailor their meal plans to fit those needs.
Nutritionists will track the progress of their clients and will gauge their ability to follow their meal plan. If a client is struggling with their meal plan, a nutritionist will adjust the meal plan to better suit the client's needs.
Nutritionists can also develop meal plans for institutions. Typical institutions where a nutritionist can work includes hospitals, schools and prisons.
Nutritional education, either in an individual or group setting, is also a primary responsibility of many nutritionists.
Related Careers
The career that is most similar to a dietitian is that of a dietetic technician. Dietetic technicians are responsible for many of the same tasks as dietitians, and will often work alongside registered dietitians. A certified nutritionist is also a related career, and those in this profession will do many of the same jobs as registered dietitians.
Employment Numbers in New Jersey
According to the career profile maintained by the Bureau of Labor Statistics, there were 1,970 dietitians working in New Jersey in 2015.
Salary Ranges in New Jersey
The annual mean wage for a dietitian in New Jersey is $65,430.
New Jersey Dietitian Links
Nutritionist and Dietitian Programs in New Jersey
Get Your Degree!
Find schools and get information on the program that's right for you.
(It's fast and free!)
Choose your area of study and receive free information about programs you are interested in. Qualified nutritionists and dietitians often pursue a bachelor's degree before attempting certification. Though both deal exclusively with nutrition, food, and dietary choices, nutrionists and dietitians do have different roles. Request information from multiple schools to find the best program and educational opportunity for you!