If there is one thing that Mississippi is known for more than anything else, it's food. Located right on the Gulf of Mexico, Mississippi is home to some of the freshest seafood that a person could ask for. However, because Mississippi is famous for its rich delicacies, it can sometimes be hard for its citizens to stay on the right nutritional path. This is why working as a registered dietitian is such a promising career.
To be granted a license to work as a dietitian in Mississippi, you must first meet the requirements to become registered with the Commission on Dietetic Registration (CDR).
Requirements to Become a Dietitian in Mississippi
Basic Requirements
Age: Applicants for licensure should be at least over the age of 18.
Education: Study should include a program with a major focus in nutrition, dietetics, food and nutrition, or food management.
Licensure: Mississippi dietitians are allowed to use the title 'licensed dietitian' after their application is approved.
Degree: The minimum educational requirement is a bachelor's degree from an accredited university.
Experience: 1200 hours of supervised work experience in either an internship or through the course of your degree. Practical experience should take place under the direction of a licensed dietitian.
Exam: After meeting the requirements, applicants must achieve a passing score on the exam that has been constructed by the Commission on Dietetic Registration (CDR).
Citizenship: Dietitians must be a US citizen or a legal alien and a resident of the state of Mississippi.
Find schools and get information on the program that's
right for you.
(It's fast and free!)
Featured Schools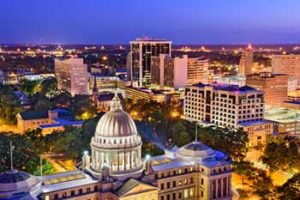 Additional Requirements
Character: Prospective dietitians must be of good moral character as determined by the Mississippi Department of Health.
Application Process
Licensure: After meeting all of the requirements, you will submit your application and a $100 license fee. To ensure approval, include proof of your CDR registration, academic verification, a letter of supervision and verification of your address. Licenses last for two years and require 30 hours of continuing education for renewal.
Verification Between States: If you are licensed in another state, you can verify this license and be granted your license to practice in Mississippi. License verification costs $25.
Provisional License: If you've completed the educational and experience requirements but have not taken the CDR exam, you can apply for a provisional license. With a provisional license, you can work as a dietitian under the supervision of a registered dietitian.
Degrees Related to Dietitians
Programs in dietetics, human nutrition, food management and nutritional science are all related to dietitians and can be useful when pursuing your dietitian registration.
Discover health and nutritionist programs in Mississippi that are a match for you!
Major Cities in Mississippi
Jackson is the most populous city in Mississippi. It is home to 170,674 persons.
Gulfport is the second largest city and has 71,856 residents.
52,859 people live in Southaven, making it the state's third largest city.
What Does a Nutritionist Do?
Nutritionists are responsible for assisting their clients in meeting their nutritional needs. To uphold this responsibility, a nutritionist will gauge a client's individual needs and will work with them to develop a nutritional plan that they can follow.
When working with clients, nutritionists will keep track of their progress and determine whether the nutritional plan requires adjustment. Nutritionists also keep detailed records of how their clients are following their prescribed nutritional plans.
Nutritionists can also work in education. They will inform the public about the latest nutritional guidelines and the best way to follow these guidelines.
Related Careers
A wide range of careers are related to working as a dietitian. Some of these careers include, dietetic technicians, certified nutritionists and food management workers.
Employment Numbers in Mississippi
According to the Bureau of Labor Statistics, 550 dietitians were employed in Mississippi in 2015.
Salary Ranges in Mississippi
The mean wage for a Mississippi dietitian in 2015 was $47,150.
Mississippi Dietitian Links
Nutritionist and Dietitian Programs in Mississippi
Get Your Degree!
Find schools and get information on the program that's right for you.
(It's fast and free!)
Choose your area of study and receive free information about programs you are interested in. Qualified nutritionists and dietitians often pursue a bachelor's degree before attempting certification. Though both deal exclusively with nutrition, food, and dietary choices, nutrionists and dietitians do have different roles. Request information from multiple schools to find the best program and educational opportunity for you!