The official state drink of Kentucky is milk, its official state fruit is the blackberry, and the official agricultural insect is the honey bee. This is a state where people believe in good, healthy living. It's also the first state where Bibb lettuce was cultivated. The people responsible for providing education and help with healthy eating, meal choices and education across the state are dietitians. If this rewarding career sounds right to you, read further to learn all you need to know about how to become a licensed dietitian in Kentucky.
Requirements to Become a Dietitian in Kentucky
Basic Requirements
Age: You must be a legal adult.
Education: You must have completed a BA from an accredited institution.
Licensure: Licensure is required for registered dietitians.
Degree: Your degree must be in human nutrition, dietetics, food and nutrition, food systems management, or a similar field.
Experience: 900 hours of supervised experience are a prerequisite for licensure.
Citizenship: You must at least be able to legally work in the United States.
Examination: Successful completion of the CDR exam from the Academy of Nutrition and Dietetics is required.
Find schools and get information on the program that's
right for you.
(It's fast and free!)
Featured Schools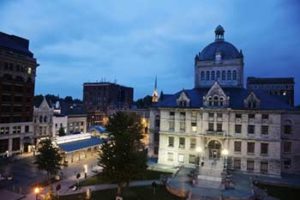 Application Process
Licensure: You must complete the online application and include an attached copy of your CDR card, proof of licensure from other states if any, and the application fee of $50. Your license will need to be renewed annually and requires 15 hours of continuing education.
Degrees Related to Dietitians
The most closely related degrees (and those that fulfill licensure requirements) include food and nutrition, food systems management, dietetics, and human nutrition.
Major Cities in Kentucky
Frankfort, the state capital, has a population of 27,453 people.
Lexington, the Horse Capital of the World, has a population of 308,428
Louisville is the largest city in the state, is the home of the Kentucky Derby, and has a population of 253,128.
Discover health and nutritionist programs in Kentucky that are a match for you!
What Does a Nutritionist Do?
Nutritionists do very similar work to dietitians, serving clients in need of help, education and planning for their unique nutritional needs.
Unlike dietitians, nutritionists in Kentucky cannot become insurance-credentialed but do not require licensure. They are instead certified.
Both professions work closely with individuals and organizations providing counseling, education and awareness training about healthy diet and nutritional choices. Some even create meal plans for institutions like prisons, hospitals and schools.
Related Careers
Nutritionists perform nearly identical careers as dietitians, but as they aren't licensed, they have no pathway to insurance reimbursement. Dietetic technicians help with the practical aspects of meal planning and education, especially for those with special needs like diabetics.
Employment Numbers in Kentucky
The Bureau of Labor Statistics indicates that there are 890 licensed dietitians practicing in Kentucky. The field is expected to grow by 16% nationwide by 2024.
Salary Ranges in Kentucky
The average salary for a dietitian in Kentucky is $53,650.
Kentucky Dietitian Links
Nutritionist and Dietitian Programs in Kentucky
Get Your Degree!
Find schools and get information on the program that's right for you.
(It's fast and free!)
Choose your area of study and receive free information about programs you are interested in. Qualified nutritionists and dietitians often pursue a bachelor's degree before attempting certification. Though both deal exclusively with nutrition, food, and dietary choices, nutrionists and dietitians do have different roles. Request information from multiple schools to find the best program and educational opportunity for you!