If you're interested in working as a registered dietitian, there are several steps you must take in order to earn this credential. First, individuals must complete a bachelor's degree in conjunction with an accredited Didactic Program in Dietetics (DPD). Additionally, at least 1,200 hours of supervised practice in a Dietetic Internship (DI) must be finished. Finally, once these requirements are fulfilled individuals will be eligible to take the national board registration exam. If a passing score is earned, individuals will be granted the status of a registered dietitian.
On this page, we'll focus on DIs and what they entail. There are several different ways you can fulfill the required internship hours. There are traditional DI programs, distance DI programs and dual M.S. degree and DI programs. Let's explore the finer details of each and what you can do to get started in a DI.
Traditional Dietetic Internship Programs
Traditional DI programs refer to supervised practice experience arranged by a program director. The DI director will set up the internship with different facilities to ensure that individuals are receiving adequate experience in both clinical and community nutrition, as well as food service management.
During traditional DIs, students are expected to complete assignments and meet all required competencies. Regular meetings with the director are normal so he or she can monitor a student's progress.
Most traditional DIs are like full-time jobs, and students should expect to work 40-50 hours each week.
Find schools and get information on the program that's
right for you.
(It's fast and free!)
Featured Schools
Distance Dietetic Internship Programs
In most distance DI programs, students are responsible for setting up their supervised practice hours with registered dietitians. Directors of these programs will monitor a student's progress and be available for correspondence online.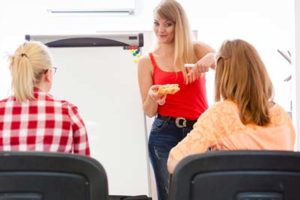 This type of program requires students to be assertive and self-motivated. They must often go to facilities themselves in order to set up the internship, however, the distance DI program will usually provide the necessary contact information.
Dual Master's Degree/Dietetic Internship Programs
This type of DI program is possible for students who are also pursuing a master's degree. It typically takes two years and requires the student to fulfill DI supervised practice hours while also taking the required coursework for their degree. As a result, these types of programs can be very rigorous.
The program can be set up in multiple ways, depending on the student's preferences. For example, the DI portion can be completed in the first year, while the second year is solely focused on completing master's coursework.
How to Begin a Dietetic Internship
To improve your chances of securing a dietetic internship after earning your undergraduate degree, there are several things you can do.
Discover health and nutritionist programs that are a match for you!
First, it's important to join campus, local and national dietetic associations. You will also want to try and gain job experience in the field, as this will give you a substantial leg up against the competition. You may be able to work for a private practice or as a diet clerk in a hospital.
Additionally, if there are any opportunities to volunteer in your community, this experience will look great on your resume. Ultimately, real world experience will help set you apart as you begin to apply for your desired DI.