If you're working to become registered as a dietitian, you've likely searched for all of the requirements that are needed to achieve this type of credential. During your search you may have seen terms such as Dietetic Internship (DI) and Commission on Dietetic Registration (CDR) examination. Ultimately, the national CDR examination is the final step in the process to become registered.
So, what does the exam entail? And how do you get to this point in the process? Below, we'll outline the steps leading up to the CDR exam and what you can expect when you sit down to take it. Working as a registered dietitian is a rewarding, valuable profession, and with hard work and dedication, you can begin your career in no time.
How to Become Eligible to Take the CDR Exam
In order to earn eligibility to take CDR exam for dietitians, you must meet set requirements in academic preparation and supervised practice experience.
In terms of academic education, you must earn a bachelor's degree or foreign equivalent, at minimum. As part of your university education, you should also complete a Didactic Program in Dietetics that has been accredited by the Accreditation Council for Education in Nutrition and Dietetics (ACEND).
Find schools and get information on the program that's
right for you.
(It's fast and free!)
Featured Schools
For your experiential education, you must complete some form of a Dietetic Internship. DIs should also be accredited by ACEND and should take place within the U.S. or one of its territories. These programs involve at least 1,200 hours of supervised practice experience and include regular meetings with a program director to ensure the internship is progressing smoothly.
Once you have fulfilled these education and experience requirements and they can be confirmed through verification, you will be eligible to take the CDR exam.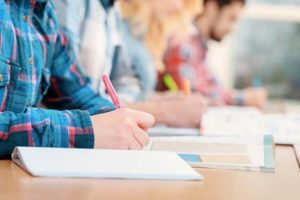 Preparing for the CDR Exam
In order to take the CDR exam, you must submit an application. Upon gaining eligibility, you should receive an email with the authorization to take the exam from the testing vendor, Pearson VUE. The email will provide you with everything you need to schedule your examination and submit an application with the required fees and information.
The CDR's candidate handbook further outlines the steps involved in scheduling and preparing for your exam.
What to Expect in the CDR Exam
Before you take your exam, you will want to prepare for the questions that might be asked. As of January 1, 2017, the CDR exam covers four areas — Nutrition Care for Individuals and Groups, Principles of Dietetics, Food Service Systems, and Management of Food and Nutrition Programs and Services.
Discover health and nutritionist programs that are a match for you!
There are both comprehension questions and application level questions. Comprehension questions require examinees to gather information from graphs, charts and formulas and use it to answer questions. Other comprehension questions are in place to prove an applicant's understanding of certain concepts and procedures. Application level questions require examinees to solve problems and make decisions based on given information and their own acquired knowledge.
CDR exams are computer-based and examinees must complete between 125 and 145 questions. Failure to answer at least 125 questions will prevent the examinee from receiving a passing score, regardless of how many were answered correctly.
You can prepare for this exam by taking online practice exams and keeping up with the latest resources and information from the CDR.