If you are thinking about pursuing a career in human nutrition or dietetics, there are several different paths you can take, depending on your specific qualifications and interests. Many people who study nutritional science decide to become dietitians or nutritionists, both of which require certain educational and professional qualifications.
Each state has certain requirements for each career path, so be sure to research the necessary qualifications to work as a dietitian or nutritionist where you live. To get you started, we'll outline the general differences between these careers and what you can generally expect to become registered in either profession.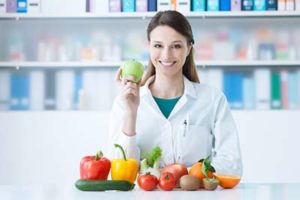 The Difference Between Nutritionists and Dietitians
While nutritionists and dietitians both study how diet and nutrition affect the human body and health, they are not interchangeable career titles. Ultimately, not all nutritionists are considered dietitians, but all dietitians are considered nutritionists. Let's explore what that means.
Dietitians are experts in human nutrition and regulating individual diets. They promote healthy eating habits in order to prevent and treat illnesses and create food plans for a variety of different public and private facilities such as universities, hospitals or clinics. In order to work as a dietitian, there are certain requirements that an individual must fulfill. Each state has required licensures and certifications to become a registered, practicing dietitian.
Nutritionists hold a less regulated role in the dietetics field. The title of "nutritionist" is more general, meaning that proof of qualification is not necessarily required in order to use the label. Although nutritionists usually hold a degree in nutrition science, not all of them have professional training. That being said, there are options to take certification exams to qualify as a Certified Nutrition Specialist, which is a protected title.
Find schools and get information on the program that's
right for you.
(It's fast and free!)
Featured Schools
Some nutritionists may work as food scientists for manufacturers, businesses or public health organizations. Others may assist registered dietitians. However, it should be noted that, unlike registered dietitians, nutritionists cannot diagnose eating disorders or plan meals to manage the symptoms of certain health problems. Nutritionists may offer support in these areas, educate clients about nutrition and offer dietary supervision.
In general, the difference between dietitians and nutritionists lies in the scope, depth and type of training and education. The education requirements for each are outlined below.
Education Requirements for Nutritionists and Dietitians
In order to become an entry-level nutritionist, you will need a bachelor's degree in nutrition or a related field. Completion of an undergraduate program in food science, dietetics, biology, biochemistry, community nutrition or other relevant studies can help individuals get their start in a nutritionist career.
Each state has specific requirements for becoming a licensed or certified nutritionist. In general, candidates will need to complete a supervised practice program, pass an examination and fulfill the mandatory continuing education requirements. Nutritionists who have finished a master's or doctoral degree program and completed at least 1,000 hours of experience may earn the title of Certified Nutrition Specialist from the Certification Board of Nutrition Specialists.
Discover health and nutritionist programs that are a match for you!
For dietitians, a bachelor's degree is the minimum education requirement, although many decide to pursue a master's degree in order to advance in the field. The degree should be in nutrition, dietetics or another relevant health science field.
Additionally, most states require licensure or certification in order to work as a dietitian. It is important to overview your state's specific certification and licensure requirements.
Specialties in Nutrition Sciences
If you have a nutritional sciences degree, you can pursue a career in a variety of different areas. For example, you can pursue a career in clinical dietetics, food and nutrition management, public health, university education, public policy and more. Whether you're interested in working with individuals or for larger international food organizations, education and certification in nutrition can help you start a rewarding profession.